Taylor Coleman was first introduced to listeners as "Intern Taylor" on the K92 Mornin' Thang in 2015. She officially joined the K92 team as an on-air personality in 2016. Currently the night show host, Taylor entertains listeners with her thoughts on the latest celebrity hookups, stories of her love life (or lack thereof), and shamelessly promoting her social media.
When she does not have a microphone in front of her face, Taylor is working on homework and drowning in due dates. She is currently a student at Liberty University, earning a degree in journalism. She will graduate in 2018 and continue to pursue a career in broadcasting.
So it's totally possible I looked like a total psychopath going to a matinee showing of "The Nun" by myself this week, but it's not my fault. My Scary Movie Buddy kept bailing on me to go see it, so being the independent woman I am, I flew solo.
Waste. Of. My. Life.
Thankfully, Movie Pass paid for this one, so I didn't waste any money. It was seriously one of the worst movies of the year.
"The Nun" is the fifth installment in "The Conjuring" franchise, and I'm just going to pretend it didn't happen. There was no real story line, the lines were cheesy, the acting was aight, but really just not scary at all. I mean, don't get me wrong, The Nun herself is super scary. Who wants this under the bed at night?!
However, I just wasn't scared. Maybe it's because I'm a seasoned horror film fan, but this is just one you gotta skip. With the new Movie Pass plan, you can only see three movies a month, so I suggest saving it for something better. Or go ahead and see it, but just know it was a huge thumbs down for me.
In other horror film news, "Halloween" is just around the corner & I AM PUMPED. I'm so glad they're pretending Halloween II & on never happened. How many times can Michael come back from the dead?! He's indestructible! But the trailer seriously looks so good, and I have a girl crush on Jamie Lee Curtis (judge me) & I'm hoping she actually kills Michael for real. I mean, let's be honest: Michael is like nearly 60 at this point. He's gotta be slow. Actually, now that I think about it, he pretty much walked whenever he went after any of his victims.
I don't know if you know this about me, but I'm basically blind. It hasn't been confirmed, but I bet if I did some research, I could be declared legally blind. I've worn glasses since I was 8, and I've worn contacts since I was 12 & I'm pretty sure it says on my license it's illegal for me to drive without either one.
Today was my annual check up, and I gotta tell ya – going to the eye doctor is so embarrassing. I haaaaate doing eye exams, because I know I'm failing – HARD.
So, let's pretend I'm taking this eye exam: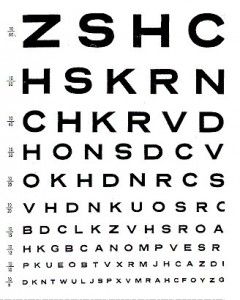 Doc: "Okay, read the top row for me."
Me: "Uhhhh, I can't see the top row."
*clicks her clicker 10x to make it bigger*
Doc: "Okay, try it now."
Me: "Uhhhhh, S G FD"
I. AM. BLIND.
And obviously she doesn't want to make a big deal out of it or make me feel bad, but you know she's thinking "Lawd, this girl is dead wrong." SNL should honestly do a skit of how blind people read the complete opposite of what's on the screen.
In the end, I learned that yup, my vision has gotten worse since my last visit, and I need new lenses. Even though it sucks how much I spent, I got suuuuper cute new glasses! (That sounded so nerdy to type). But for reals, they're cute and I'm excited for them to come in in a few weeks.
I've always thought about getting Lasik eye surgery, but I like the option of wearing glasses (also, have you seen Final Destination 5…? Nuff said.)

Connect with me on social media!
Facebook: Taylor Coleman, K92 Radio
Twitter: @k92taylor
Instagram: @k92taylor