I don't know if you know this about me, but I'm basically blind. It hasn't been confirmed, but I bet if I did some research, I could be declared legally blind. I've worn glasses since I was 8, and I've worn contacts since I was 12 & I'm pretty sure it says on my license it's illegal for me to drive without either one.
Today was my annual check up, and I gotta tell ya – going to the eye doctor is so embarrassing. I haaaaate doing eye exams, because I know I'm failing – HARD.
So, let's pretend I'm taking this eye exam: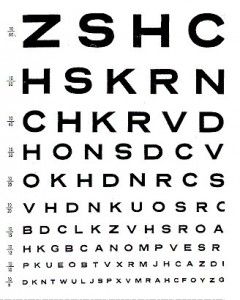 Doc: "Okay, read the top row for me."
Me: "Uhhhh, I can't see the top row."
*clicks her clicker 10x to make it bigger*
Doc: "Okay, try it now."
Me: "Uhhhhh, S G FD"
I. AM. BLIND.
And obviously she doesn't want to make a big deal out of it or make me feel bad, but you know she's thinking "Lawd, this girl is dead wrong." SNL should honestly do a skit of how blind people read the complete opposite of what's on the screen.
In the end, I learned that yup, my vision has gotten worse since my last visit, and I need new lenses. Even though it sucks how much I spent, I got suuuuper cute new glasses! (That sounded so nerdy to type). But for reals, they're cute and I'm excited for them to come in in a few weeks.
I've always thought about getting Lasik eye surgery, but I like the option of wearing glasses (also, have you seen Final Destination 5…? Nuff said.)

Connect with me on social media!
Facebook: Taylor Coleman, K92 Radio
Twitter: @k92taylor
Instagram: @k92taylor